ColorBar Label Printing Software
ColorBar is a label design and printing application that helps maximize the efficiency of your paper filing system. Quickly and easily create labels and folders that include file headings, color coded indexing, bar codes, text, images, and graphics.
ColorBar makes managing large filing systems less labor intensive and virtually eliminates misfiled documents. Integrate ColorBar labeled folders into your current filing system with exact visual and color match, or create a new filing system tailored to your organization's needs. ColorBar is a perfect solution for high-volume filing departments or any company that wants an easy way to generate color coded files on-demand.
ColorBar® Design-A-Sheet Custom Label Stock
You can customize and print a variety of label shapes, sizes, and colors quickly and easily with ColorBar Design-A-Sheet labels. Our Design-A-Sheet label program gives you the flexibility to create and print multiple label styles for any application. Create your own combination of end tab labels, top tab labels, bar code labels, document labels, address labels, or labels for any other office need. Using your custom layout, we die cut letter size label sheets to give you the exact label size you need for your specific requirements.
Colorbar Design-A-Sheet labels provide unmatched flexibility for your specific filing needs.
Order label sheets die cut into virtually any shape and any size up to 8 x 10-1/2 inches.

Your minimum order of 1,000 sheets includes the die, die cutting, and die maintenance for future orders.
Perforation and hole punch options are also available.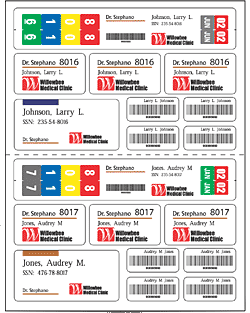 All adhesive products have a limited shelf life. We recommend that you purchase only the quantity that may be used within 12 months of purchase. Be sure that any color comparison or matching is performed on the actual label stock to be used for production. Color variations can and do occur when printing onto stock provided by several manufacturers. Smead Software Solutions is not responsible for color fastness, color matching, or the adhesive properties of third party suppliers. Use only genuine ColorBar labels for conversions and day forward applications.
ColorBar Labels for laser or inkjet printers
Item No.
Description
CB-170115

Design-A-Sheet® for Laser

Custom Designed
8-1/2" x 11" Sheet
Custom die-cut stock only, Printing not included
Sold per Sheet, 1000 Sheet Minimum

CB-170015

Design-A-Sheet® for WaterGuard InkJet

Custom Designed
8-1/2" x 11" Sheet
Custom die-cut stock only, Printing not included
Sold per Sheet, 1000 Sheet Minimum
Please call us at (888) 891-1970 for a quote or if you have any questions.